感情: sleepy & disappointed
音楽: "Naraku no Hana" - Eiko Shimamiya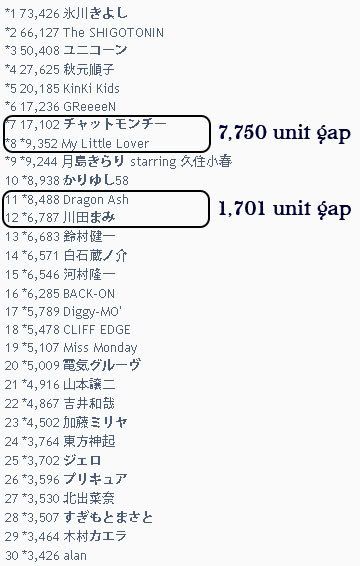 I've been disappointed with the singles/albums' sales lately especially the non-popular ones. Just look at the charts this week!!! O.O Even the #1 didn't even reach 100k sales!!! Then the gap for the 7th & 8th position we're almost half in amount!!! Is really the global financial crisis felt all over the world? I thought that was only here in the Philippines or in the USA. =.=;
And what's worse, Mami's 7th single only sold approximately 6,800 this week?! Despite having the #12 position?! FUCK!! Not to mention the gap between Dragon Ash's sales Kawada's sales. Akai Namida/Beehive was even higher by a bit with it's 6,862 sales at #21!? And even the disappointing first-week 9,623 sales of PSI-missing was even higher even if it only got the #14! ZOMG!?! This is so unacceptable. =X
But what I'm impressed with PSI-missing is that it is still charting for its 14th week and has already gained a good 21,300 sales which means this single was still much very loved by the others considering it's been charting for 14 weeks.
Random Note: Oh I see, Nana Kitade at #27 although with a very weak sales... But well it's a miracle Tsukihana entered top30 considering it's not that great as it sounds (plus the PV was kinda boring --- if you have watched it, you know what I mean. XP). I mean Jigoku Shoujo tie-ins are not much of a deal. And it has been a while since Kitade had her single in a rather "high" position which I think was almost 4 years ago?! DX No, I'm not kidding. I think her last top30 entry was Kanashimi no Kizu which was released July 20, 2005. XD Even Antoinette Blue (a D.Gray-Man tie-in) didn't save her from getting lower than top30. Here's a review of Kitade's Oricon performance:
Kanashimi no Kizu --- #26 (2005)
SLAVE of KISS --- #79 (2006)
Kibou no Kakera --- #64 (2006)
Antoinette Blue --- #34 (2007)
Suicides Love Story --- #64 (2008)
Siren --- #189 (2008)
PUNK&BABYs --- #107 (2008)
Tsukihana --- #27 (2009)

Urrggh, I'm really a bit disappointed with masterpiece's sales. It's too low. ;_; As if it would get a decent sales next week. I've singles are just good on their first-week sales but after that, it would be kicked-out of the top30 or even top 40 in a worst case scenario.
Random Trivia: I only know 4 I've singles who were able to stay @ top 30 on its second week. And these are:
KOTOKO's Re-sublimity (1st week, #8; 2nd week, #26)
Mami Kawada's Hishoku no Sora (1st week, #11; 2nd week, #27)
MELL's Red fraction (1st week, #11; 2nd week, #26)
KOTOKO's BLAZE (1st week, #13; 2nd week, #28)

as usual, the image chart above is courtesy of Hadji of jpopmusic forums while the information above this line is courtesy of Oricon.